OUR COMMITMENTS HEALTH AND SECURITY

Security Policy
Our priorities, the actions and organizations for the prevention of risks are defined in advance.
Steering committee Health security & environment's group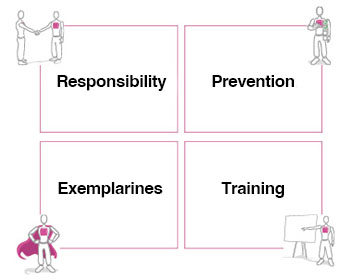 CMAI include 4 rules of thumb. These rules are a social skill required to allow the prevention of risks in our daily work. Respect them, ensures comfortable and safe working conditions for everyone.
The missions and responsibilities of each co-worker are defined in regard to health, security and environment.
Common rules of conduct are also in place and they are the same for all the group's sites
A permanent implication
Health, Safety and Environment coordinators are present on our sites. With the managers and their team, they evaluate the risks, looking for solutions and manage the actions plans. They train, communicate and facilitate the sharing of good practicals of the group.
The social partners (CSE) are also involved in prevention initiatives through Health, Safety and Working Conditions Committees.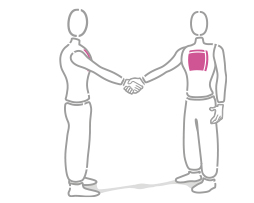 Visual health and safety communication in all departments, integrated with other everyday tools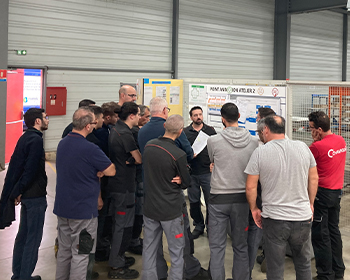 Before each taking up post, the workshop team leaders and operators are meeting to do security check-in.
INTEGRATED TO THE INDUSTRIAL PROCESS

Welcome - Health, Security and Environment's trainings
During his arrival, each co-worker receives a welcome booklet. Our objective is to have clear rules and instructions for everyone on the site and at his job.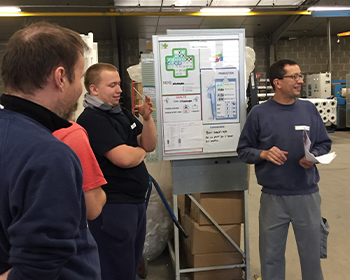 Training adapted to each profession
Additional trainings are also given on specific thematics related to each individual's job.
For example : chemicals risks, risk management with external companies, driving machines (overhead crane, forklift).
Personalized accompanying with physiotherapists
The co-workers who perform manual handling activities take part in support days with physiotherapists.
The support is dedicated to one-on-one interview aim for understand the functioning of the body and guide each person to have the appropriate gestures, to protect their physical health and use the good tools according to the work situation.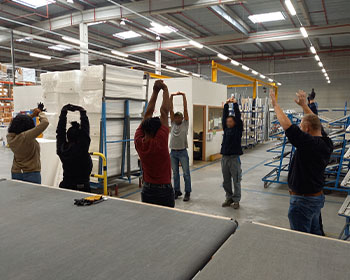 A exchange in group is organized after, to share advices and tips between the physiotherapist and the co-workers.
In result of these accompanyings with the advices of the specialist, the jobs and organizations can be improved.
SETUP

Job's ergonomy
We integrated on each new job a process to limit utmost the risks.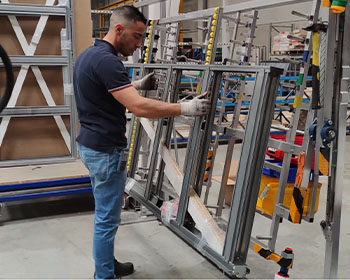 Ergonomic assembly table
This assembly table is adjustable to adapt at the height of the operator and limit the risks related to the postures (shoulder, back…), optimize the space on the job and gain in performance in the assembly of products.
Handling help :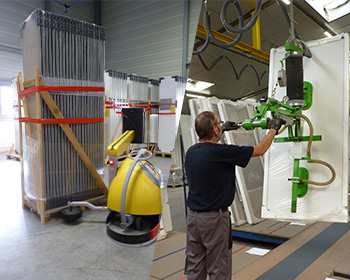 Installation of adapted equipment to reduce the risks related to postures and manual handling
Automatic filming machines, suction cup cranes, handling trucks, autonomous tractors, lifting tables...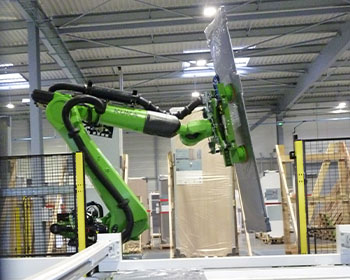 Handling assistance for a standard line of steel closet doors
Allows to reduce repetitive and painful gestures for our operators.